VARUNA MARINE SERVICES B.V. - PRIVACY POLICY
Your Privacy
Our website ("https://varunamarine.eu") provides general information on our various services related to the maritime industry. We hope that you find your visit informative and interesting.
Whilst our website is mainly aimed at a business audience, we also provide a contact form for potential candidates to send in CVs and accompanying information in relation to job vacancies that we may advertise or where an individual would like to make a speculative application.
What is the purpose of this Privacy Policy?
Varuna Marine Services B.V is a "data controller" and our registered address is Varuna Marine Services BV, Middelburgsestraat 1C, 2587 CS, The Hague, The Netherlands. We use our website to provide you with information about our maritime industry services. 
Our website allows you to contact us if you wish to discuss your requirements with us. We may also collect personal information from you if you submit a CV or other information to apply for a job or enquire as to whether we have any vacancies please contact [email protected].
If you have any queries about the Website, this Privacy Policy, or how we use your personal information, please contact [email protected]..
This Privacy Policy relates to your use of the Website and tells you:
What personal information we collect about you when you use the Website
How we collect your personal information on the Website
How we use your personal information
Who may we share your personal information with?
Any transfer of personal information outside of the EEA
How long we keep your personal information.
What we do to protect your personal information
What are your rights as a Data Subject in relation to your personal information?
Personal Information we process about you.
What information we process about you
We may collect the following information about you:
Name and address
Mobile phone number
Email address
Current employer
Job applicants – CV information including training, employment history, medical information.
Personal Information you give us.
Using our contact form/email contact
We collect personal information from you if you contact us via our contact forms or via an email link.
Using our online application form
We collect personal information from you if you submit a job application to us via our online application form.
Personal Information we collect automatically.
When you use the Website, we may collect certain information automatically such as:
IP addresses (the name and internet address your device uses to identify itself to us)
Your activity in our website including times and dates of visits.
If you want to know more about how we use cookies, please see our cookie statement.
What you should do while sending your legal documents
Redact your confidential information.  
What is Redacted?
Redacted, a fairly common practice in legal documents, refers to the process of editing a document to conceal or remove confidential information before disclosure or publication.
KEY TAKEAWAYS
Redacted, a fairly common practice in legal documents refers to the process of editing a document to conceal or remove confidential information before disclosure or publication.
Redacting personal data in documents is important to avoid identity theft.
Federal Rule of Civil Procedure 5-2 requires court filings to redact Social Security numbers, financial account numbers, names of minors, dates of birth, and home addresses.
There are tools available in Microsoft Word or Adobe Acrobat to redact documents.
Examples of Redact: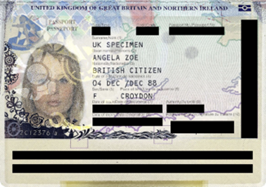 Why redact?
As the electronic filing of court documents is now standard practice, redaction is necessary to restrict public access to personal data, given the possibility of identity theft and other types of fraud.
In addition to personal data identifiers, other information that should be redacted include medical records, trade secrets, informant names, and security information. Attorneys have an obligation to protect the privacy of parties involved in litigation or other proceedings, and failure to do so may result in the court sanctioning penalties or fines against them.
There is a significant amount of legislation—such as the Health Insurance Portability and Accountability Act (HIPAA) and the Gramm-Leach-Bliley Act—that includes processes on how to handle private information.
Redacted Process
Federal Rule of Civil Procedure 5-2 requires that parties filing documents with the court (whether manual filing or e-filing) must redact the following personal data identifiers:
Social Security numbers: Only the last four digits must be included.
Financial account numbers: Only the last four digits should be used.
Names of minors: If the involvement of a minor must be mentioned, only the minor's initials may be used.
Date of birth: If the date of birth must be included, use only the year of birth (not month or day).
Home address: In criminal cases, if a home address must be included, use the city and state only.1
Redacting a paper document can be done by cutting out the text to be redacted or using opaque tape to cover the redacted sections. The redaction of electronic filings, however, is more complicated. The following methods may appear to redact a document, but in reality, are not effective or foolproof:
Changing the text's color to white. This may make it look as though the selected words to be redacted are hidden, but the remaining metadata can reveal the hidden text.
Blacking out with comment tools: Edits made by such tools can be removed to reveal the underlying text.
Deleting words or sections: Metadata contains document revision history and can be used to view deleted information.
Using dark tape or opaque marker: Rather than physically clipping out sensitive information, it is common practice to cover such information with dark tape or a marker and scan it into a PDF format. However, many scanners are sensitive enough to view such covered words even if they do not appear to be visible.
Best practices would be to use the tools specifically designed for document redaction, available in Microsoft Word or Adobe Acrobat.
How we use your Personal Information
Our legal basis for using your information.
The law only allows us to use your personal information in certain limited circumstances. When you submit information to us on our website, we will process that information in order to comply with your request for further information or to process your application for a job which we will do with your consent.
If you submit a job application, then we may keep your CV on file for up to a year or until the withdrawal of your consent.  We believe that our legitimate interests in ensuring that we have access to suitable candidates for future roles do not override your interests and fundamental rights. You can request us to delete your information at any time.
Sharing your Personal Information
Our Business Partners
Your information may be accessible by our electronic communications providers and our analytics and search engine providers.
The following organizations are used by us:
Google Analytics
Google Search Console
Legal Requirements and Law Enforcement
We may also disclose your personal information to third parties:
If we are required by law, or in order to enforce our website terms of use. This includes exchanging information with other organizations for the purposes of fraud protection and credit risk reduction and law enforcement agencies.
Third-Party Privacy Policies
The Website may contain links to websites owned by other organizations. If you follow a link to another website, these websites will have their own privacy policy. We suggest that you check the policies of any other websites before giving them your personal information as we cannot accept responsibility for any other website.
Keeping your Personal Information
How we store your personal information
The security of your personal information is important to us.
We use appropriate technical and organizational measures to safeguard personal information. We use state-of-the-art encryption technology where appropriate to enhance privacy and help prevent information security breaches. We use industry-standard measures and processes for detecting and responding to inappropriate attempts to breach our systems.
We may use your data for check-in Office of Foreign Assets Control OFAC to check your personal information from European Union and US Sanction list, with we also check Transparency and CPI of your country and check your background like previous company, etc. If we do, we will ensure that we enter into a data transfer agreement that gives you enforceable rights and legal remedies and provides adequate levels of protection for any personal information.
All third parties who provide services to the website are required to sign a contract requiring them to have appropriate technical, administrative, and physical procedures in place to ensure that your information is protected against loss or misuse.
All information you provide to us is stored on our secure servers or on secure servers operated by a third party. Information on our third-party providers can be found above.
If there is no decision from the EC confirming the third state's data protection level on par with the EU/OFAC area – then only explicit consent may be the gateway to transfer such information outside the EU/OFAC area. 
Retention of information
We only hold your personal information for as long as necessary for the purposes for which we collected your information.
We have a company retention policy that leads down timescales for the retention of information. Our document retention periods are available on request to [email protected].
We have set these timescales in accordance with any applicable legislation and where none exists or is in discontinuity then we will keep your information for a period of 1 year after which time it will be deleted.
Please be informed that in the scope not prescribed by the aforementioned legislation, you may withdraw your consent for processing (including storage/retention) at any time.
 Emails
If you chose to send us information via email, we cannot guarantee the security of this information until it is delivered to us. 
Your rights
Access to information
You have the right to access information that we hold about you. If you wish to receive a copy of the information that we hold, please contact at [email protected] or write to us at the address above.
Changing or deleting your information
You can ask us at any time to change, amend or delete the information that we hold about you or ask us not to contact you with any further marketing information. You can also ask us to restrict the information that we process about you.
You can use the checkboxes on the forms we use to collect your information, or you can also request that we change, amend, delete your information or restrict our processing by emailing us with [email protected] or writing to us at the address at the beginning of this Privacy Policy.
Right to prevent Automated decision making
You have a right to ask us at any time to stop any automated decision-making. We do not intentionally carry out such activities, but if you do have any questions or concerns, we would be happy to discuss them with you and you can contact us at [email protected]. 
Transferring Personal Information
You have the right to request that your personal data is transferred by us to another organization (this is called "data portability"). Please contact us at: [email protected] with the details of what you would like us to do and we will try our best to comply with your request. It may not be technically feasible, but we will work with you to try and find a solution.
Complaints: 
If you make a request to us under this Privacy Policy and you are unhappy with the response, you can ask for the request to be reviewed under our internal complaints procedure. Our internal complaints procedure allows your request to be reviewed by the Quality Manager [email protected] who will do their best to try and resolve the issue.
If you have been through the internal complaints procedure and are still not happy with the result, then you have the right to complain to the relevant Data Protection Authority:
Registered and Postal Address:
Varuna Marine Services BV, Middelburgsestraat 1C, 2587 CS, The Hague, The Netherlands 
Changes to our Privacy Statement
We review our Privacy Policy on a frequent basis to check that it accurately reflects how we deal with your information and may amend it if necessary. You should check this page regularly to see the most up-to-date information.
How to Contact us
We welcome questions, comments, and requests regarding this Privacy Policy which can be sent to [email protected]